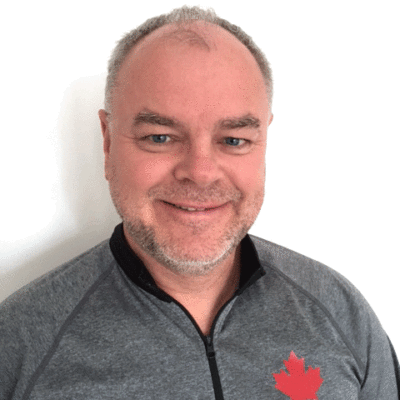 Mike Howlett, B.Ed., B.P.H.E.
Mike Howlett grew up on Gerrard St. East, two blocks west of Ted Reeve arena. In 1970 his father Mel, co-founded the Ted Reeve Skating and Hockey School program held on Sunday's. Mel was a Head Instructor and later a Director of the program until his passing in 2007. Mike, his brother and cousin all volunteered on Sunday's as teenagers. Mel coached Mike at Ted Reeve and later with the Don Mills Flyers.
Mike attended Malvern C.I. from 1976 to 1981. Mike was voted to TSSAA All Star teams in hockey, football and Baseball. He also represented Malvern at OFSAA in Track and Field on three occasions.
Mike enjoyed coaching the Girls Hockey team while at Malvern and helping with the Kimberly P.S. hockey team. He also coached the Midget All Star team at East Toronto Baseball. It was his love of sports and coaching that led him to accept a position in the school of Physical and Health Education at the University of Toronto in the fall of 1981.
During his undergraduate years Mike continued to coach, and worked at summer hockey camps for the city of North York from 1982 to 1994 at Herb Carnegie arena. Mike created 'Hockey FUNdamentals Camp' in 1995. After two summers Mike opened a second camp at Ted Reeve in the summer of 1997. In 20 plus years over 10,000 students have been involved in pursuing their love of hockey while learning the FUNdamentals of the game, sportsmanship and appropriate nutrition.
Mike began teaching in Toronto in the spring of 1988. In his 29 years as a Physical and Health Education teacher, and later school Principal Mike coached over 85 teams winning multiple Junior and Middle School city championships in volleyball, touch football, fastball and hockey. Mike founded a City Wide Middle School Girls hockey tournament in 2004 which occurs each March.
Although recently retired from the Toronto District School Board Mike is still coaching, and is the co-director of a Girls hockey tournament. He also is a member of the Admissions Committee, and Alumni Executive of the School of Kinesiology and Physical Education at the University of Toronto.
Mike's passion has always been teaching and coaching. He continues to enjoy teaching the 5-8 year old age group and mentoring new staff, many of which are former campers. The camp offers a great opportunity to reinforce skating and puck skills while learning basic team concepts along with respect for your opponents and taking responsibility for your success.